After School Climbing
The most fun after school enrichment program in town!
Organized through your school or PTA. Usually a multi-week program held once a week on school grounds directly after school hours. Activities include ascending into the tree's canopy, limb walking, and various other climbing elements. We generally have two instructors – one instructor belays one child at a time on the climbing element while the other instructor plays games with the rest of the group. The program is rounded out with tree identification and biology, nature exploration, and creative games.
Kids love to climb trees – let them do it safely!  The kids are harnessed in and belayed by an instructor the entire time they are climbing. We use tree climbing equipment that is rated for at least 5,000 lbs., and our OSHA/ANSI approved climbing systems all have redundant controls. Our climbing program is designed and run by Riverside's camp director Scott Ross (ISA certified Climber Specialist). We also have an ISA certified Arborist on staff.
The elements we run depend on the trees available. The program focuses on confidence-building, trust, nature conservation and FUN. We operate on a 'challenge by choice' principal in regard to climbing. Public and private school references available upon request.
We offer after school tree climbing programs in many schools in Richmond, Chesterfield, and Henrico Counties – if we're not already at your child's school, put us in contact with your PTA or afterschool coordinator– if it results in a new afterschool program for us, we will give you a free camp spot for your kid as a thank you!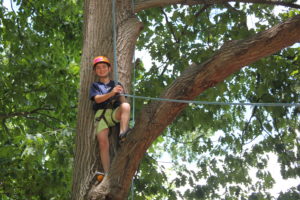 ---
Afterschool Climbing Faq's
Academic enrichment offering directly after school hours – usually held on school property.
Available all year.
Multi-week program (usually about an hour each session), or single-day outings or field trips (usually last a couple of hours).
We would be happy to inspect the trees and let you know if a location will work.
Our minimum class size is 8, maximum is 12.
We can do multiple groups each week –for example, if 24 kids sign up for the fall session, we can split them into a group of 12 climbing on Wednesdays and a group of 12 climbing on Thursdays.
We typically arrange classes by grade (k-2 in one group, 3-5 in another).
---