Corporate and Group Outings
Whether you're a corporate leader looking to get your group out of the office and enjoying a memorable, galvanizing adventure….or, a youth group director in search of a super fun, healthy, unique outdoor offering — our wide variety of river and land-based adventures are perfect for natural, reinvigorating fun and team building!
In addition to offering group discounts ($5 off/person for groups of 12-19 people, $10 off/person for groups larger than 19 people) on select climbing and rafting trips, we are also happy to customize an outing for you. Your group size, amount of time you have available, degree of thrill vs. relaxation you're looking for, budget, and many other factors come into play when crafting a super-memorable outing. If none of the trips you see on our website suit your needs, just give us a call (804-560-0068) or email us (riversideoutfitters@gmail.com) and we'll craft an outing based on what you're looking for.
For larger groups, we'd suggest outings involving rafting — as those options can easily, and efficiently, accommodate 15 to 100 people without putting the burden of planning and day-of stress on you. We can even provide transportation to/from just about anywhere in Richmond. Let us do that work for you and deliver an outing that will leave your group sun-kissed and smiling.
We also have partnerships with several Richmond landmark businesses, enabling us to create amazing package deals involving private islands, Segways, amazing restaurants, craft beer, trolley tours, scavenger hunts, and many other fantastic experiences. We look forward to helping craft your "I had no idea just how awesome this city is" group outing. Call or email us to explore all your options!
Book a trip online or call/email to set up a custom outing
804-560-0068
Groups of all sizes
For groups of 4 to 12 people, we would recommend Tree Climbing/High Ropes outings for folks who are wanting to work up a sweat and push themselves physically and mentally. Another option are our guided Sit-On-Top Kayak and/or Stand Up Paddleboard tours, if you're looking for a more refreshing day on the river. Whether it be an exhilarating class I-II whitewater trip or a relaxing flatwater paddling and island-hopping experience, we've got you covered.   For groups larger than 12 people, whitewater rafting on the small rapids section (more of a splashy, chill float), or on the larger rapids section through downtown, are great options.  For youth groups, also consider a lazy-river tube float, complete with shuttle transportation, trip briefing and water proof map.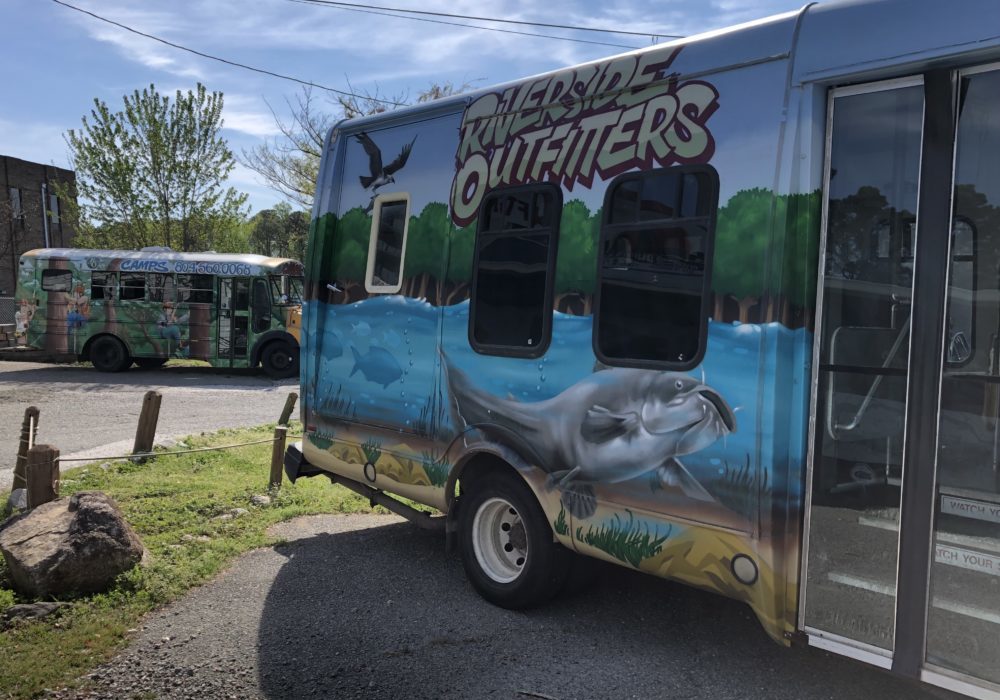 Transportation
RO has two 42-passenger busses and five other 13-passenger vans to shuttle you to/from our shop or other locations around town. If you are transporting yourselves, we have access to a large parking lot adjacent to the shop where busses and vans can easily park. Want us to meet your group somewhere in the park system? Let us know...we'll work it out for you. 
Testimonials
"Took 40 people from work on a company outing. The staff, facilities, equipment, and rafting were all excellent. The guides were all top notch and added tour guide talks on historic and nature aspects of the James river, as well as hitting the rapids. My group had a great time and would definitely recommend this for any group outings." -Jeffrey Scudder
"Could not have been a better choice for our team outing! We took our team on the Lower River rafting trip and were ecstatic with the beauty of the river, rapids, and how well we were treated. Adam was our rafting guide and he did and outstanding job explaining historical facts, river rafting skills, navigation, spreading genuine enthusiasm, catering to our needs, and getting us down the river safely while insuring we had a great time. Riverside Outfitters did a great job and we plan to go again. Thanks guys for an awesome time you blew us away!" -Clarke, Owner Thrive PT